All Android fanboys will be eagerly watching the I/O this year, hoping for a new Android version, including me! There are a lots of leaks going on this year about Motorola devices and Android TV, a new Android version and lot's more, let's get started!
Android TV This was probably the earliest leak for Google this year, by The Verge in April, showing us a new device called Android TV. The leaks showed a very beautiful UI and hopefully it gets announced at I/O and includes all the features of Chromecast. If somehow, Google manages to price this under 100$, I think it's going to get Apple TV, Roku etc. out of business!
New Motorola devices
+TK TECH NEWS
is on a roll and constantly leaking new Motorola devices including the new Moto X+1 and possibly a new tablet similar to the Moto Xoom. You can watch the videos on his YouTube channel
here
.
Android Wear and more
Though
Android Wear
was already announced earlier this year, Google I/O is the perfect venue to see a more finished product and maybe even some hardware. The original release dates for the LG G Watch and Moto 360 were targeted for this summer, so it makes good sense that they could show up here as well. Google often gives away a bunch of free devices to the attendees, so what better way to get developers programming for Android Wear than give several thousand of them free devices and then have them sit through hours of how-to talks?
There are also speculations that the Moto 360 will feature a wireless charger and will be announced this I/O.
Google Stars
Google seems to have accidentally posted their long-rumored Google Stars extension to the Chrome Web Store for just a few minutes, which was long enough for someone to grab it, upload it to the web, and allow the
tech blogosphere
to run rampant with it. It is easy to overstate what Google Stars is – it is basically a feature-rich bookmarks/favorites extension, unless there is much more to it that we have yet to see. We have so far just seen a version that is an available extension for the Chrome browser, which would also potentially limit its appeal.
Nonetheless, it appears to be a true added value to the normal bookmarking feature. It takes the tagging features that Firefox users are probably used to and packages them in a more appealing interface that should make adoption easier. Google has also made sharing a part of the extension, perhaps with a vision for making Stars a link-sharing platform that doesn't have the same time sensitivity that Google Plus, Facebook, and Twitter have. New Android version (Technical stuff)
(Hopefully it's 5.0 :P) There were tons of leaks and some were teases from Google like on the I/O website and a screenshot with clock at 5:00.
Leaks are leaks but here are some facts about changes that happened in Android in the last week:
Removal of Dalvik from AOSP source code.
Tentatively rename 64-bit API level to non-numeric: 'L'.
The build numbers usually start from the first letter of the version name. For e.g.: 4.4.4 is KTU84P, 4.3 is JWR66V. This means that it is almost 100% confirmed that the next version will start from "L".
Google knows that most of it's users have a habit of digging around the source code and find easter eggs so this is probably a tease by Google. After all, Google manages the internet :P
New Android version (Visual stuff)
Leaked Gmail interface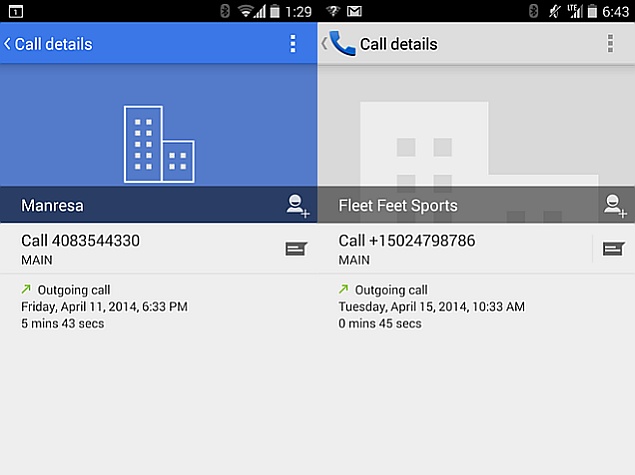 New contacts Old contacts
Project Hera and Quantum Paper are two leaked projects from Google that look forward to revamp the visuals of Android. The above contacts screenshot was provided by Google itself in a tweet for support while the gmail screenshot is a leak. As you can see in the new contacts screenshot, the Wifi icon looks a little different. Continuing this pattern, Google again teased new statusbar icons on the I/O site as shown below.
New icons teased in I/O and current icons
EDIT: Just after publishing this article, new leaks came from a Chromium Issue Tracker showcasing a new icon in the status bar which looks like Mr. Jingles but the more exciting thing for me was to see Chrome open in floating window! Google FTW if they implement floating window!! \m/
Most noticable things are the statusbar and the fact that Chrome is open in a window
These screenshots are taken from a Nexus 4 so, if you are a Nexus 4 user, it's almost guaranteed that you will get 5.0!!
Nexus 9 (HTC Volantis)
First things first, this is likely the tablet we previously referred to as the Nexus 8 — everything lines up with rumors of that device (it's made by HTC, and runs on an NVIDIA chip). Without further ado, let's get right down to the specs of Volantis, the codename for the tablet.
The display is expected to have an 8.9-inch size with a resolution of 2048×1440, bringing the pixels-per-inch count to 281. This apparently has an aspect ratio of 4:3, but the resolution and ratio don't line up here. It's possible that the software navigation buttons are being included, which could possibly account for the difference.
The processor is a 64-bit NVIDIA Logan, which is better known as the
Tegra K1
. We do not yet know the clock speed of the K1 on this alleged Nexus 9. The rear-facing camera is an 8MP shooter with optical image stabilization, and it's backed up by a 3MP front-firing unit. 2GB of RAM and a choice of 16 or 32GB of internal storage make up the rest of the leaked specs.
Let's talk design for a second. The dimensions of the Nexus 9 are expected to be 8.91 inches by 5.98 inches by 0.31 inches. It'll weigh 418g assuming you pick up the WiFi-only model, but the LTE-supporting equipment will tally to 427g. It also apparently has an "aluminum zero-gap construction with tapered-sides," but the render shown in the alleged leaked Android Police source image doesn't exactly line up with that (the image above is a render of the render to better show details), rather showing more of a cross between last year's Nexus 7 and the Nexus 5. The stereo front-facing speakers are also absent from the render, but this is HTC we are talking about — it wouldn't be surprising to us to see these design elements on a device from it.
Availability has also tentatively leaked. Assuming things don't change before HTC and Google are ready to take the wraps off of the tablet, the WiFi-only model will likely cost $399. The 32GB model would add an extra $100 to do this, making the total price $499. LTE support adds even more, and Android Police speculates that this could push the price into the $600+ range. This is a wild departure from the Nexus 7 of yesteryear (and the year before), and quite frankly we're displeased at this point — it is a Nexus, after all.
Nexus 9 is apparently the tentative launch name, but Android Police hasn't confirmed that as the official launch name quite yet. Also, with all the turmoil going around in Nexus world, this may not even come to fruition — although we certainly hope it does.
This tablet will allegedly launch alongside the Android L-release in Q4 of 2014. Mark your calendars, folks, this will be big.
Home automation
There's also the Android@Home group, focused on home automation. The initiative has pretty much been missing in action of late, though perhaps we might see some new announcements. Google's brand-new Nest division just went out and acquired Dropcam, but don't assume that means we'll see movement here. It's much too early for any deep integration and Nest still operates like an independent entity within Google, but it's clear that this space matters a great deal to Google and it's willing to put its money where its mouth is.
Those are a LOT OF LEAKS!! This is probably the longest article I have ever written. You can find out by reading all the other ones ;) Follow me on Google+ or +1 this article/blog if you liked it. Keep reading! :D